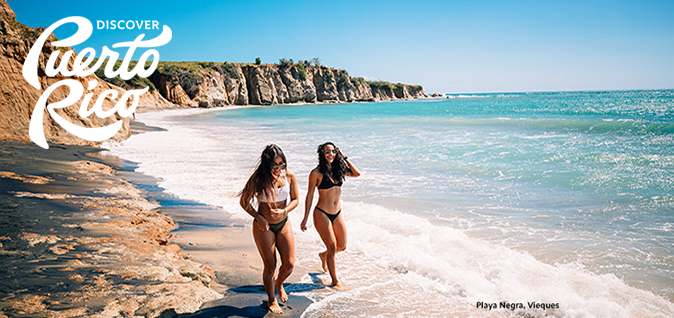 Puerto Rico vacations.
Have we met yet?
Seven reasons why Puerto Rico should be your clients' next destination:

Bioluminescent bays. There are five bioluminescent bays in the world, and Puerto Rico is home to three of them. Schedule a nighttime kayak tour for your clients and tell them to prepare for a truly unique experience.

No passport. Since Puerto Rico is a territory of the United States, American citizens do not require a passport to enter the island.

Old San Juan. Visiting this walled-city is a great introduction to Puerto Rican history, culture, and hospitality. Your clients will enjoy the opportunity to walk through Old San Juan's blue cobblestone streets to explore historic forts, galleries, museums, restaurants, and shops.

Lots of nonstop flight options*. Are they ready to get the vacation started right away? Take advantage of our many flight options.

Flamenco beach. This captivating beach has been catalogued as one of the top beaches in the world. Ideal for swimming, unwinding, and simply beach-bumming, this location is the very reason visitors choose to venture outside the main island.

Bacardí Rum Distillery. The Casa Bacardí distillery produces most of the Bacardí rum consumed worldwide. Your clients will be able to choose between three tour options: historic, rum tasting, or mixology class.

Bags fly free+. This isn't unique to Puerto Rico, but it's so appealing for vacation, we couldn't leave it off the list.
Agent information
Ultimate Agent Rewards
Agent Bonus Cash - these rewards refresh each month, view our current offers.
Upgrade Bonus - it pays to upgrade, upsell to select room categories and earn 2% bonus commission.
Stars - get extra benefits and rewards as part of the Stars program.
TERMS & CONDITIONS
*Nonstop service available from Baltimore/Washington (BWI), Chicago (Midway) (MDW), Orlando (MCO), Ft. Lauderdale (FLL), and Houston (Hobby) (HOU).

†First and second checked bags. Weight and size limits apply. A golf bag can be substituted for one checked bag.